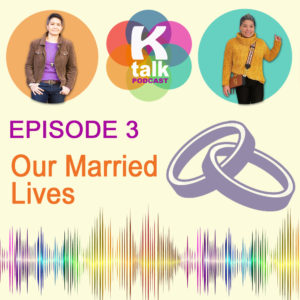 It's not that we didn't want to get married, it's just that it wasn't available to us. So we lived our lives as if this was the permanent lifetime commitment we had with each other. So when it was legalized, yeah, you could say that it was only a formality because we already had a foundation, but one thing that you realize in the legal sense, there are so many benefits and rights provided by marriage equality. So even in a personal sense, that feeling that your marriage is equal to any other marriage, and to be able to call your wife your wife, which is universally recognized, and by law people now have to recognize and accept whether they like it or not, it legitimizes your relationship for the first time. It's very empowering because you're no longer afraid because it's now the law of the land and you can no longer be harmed. It changes the mindset of the relationship when people have to respect it regardless of how they feel about it. In that sense you also feel the gravity and seriousness of that marriage because the respect that is given to other marriages is now given to you, and that feeling is empowering. (29:56)
Regarding the difference in their lives before and after getting married:
Sa aspeto ng kung sino kami, at sa aspeto ng pagsasama namin, actually wala talagang pagbabago. Ang na-realize ko lang ay more on security and stability namin in a relationship, kasi now we are one. We can set more goals, and we have more focus for the future. Kasi may kasama ka na sa buhay. I felt that I have a family. Hindi pala na kung pamilya e may anak ka, o babae at lalake. Sa kultura natin when you're helping your family and you're a breadwinner, hindi nila maintindihan ang relasyon ninyo kaya nasa iyo ang responsibility dahil wala kang pamilya, wala kang anak, wala kang asawa. Now I have ground to stand on, may pamilya na ako. May asawa na ako. Nung nagpakasal kami, siya na ang pamilya ko. At naiintindihan ng pamilya ko yon. (32:40)
Before getting married, ang hirap gumawa ng plans for the future. It's hard to make people realize what exactly your relationship is without the actual legality. Now that you're legally married, it's automatic na next of kin mo na siya. Pag may nangyari sa iyo, kailangan siya ang magde-desisyon. You can own property together now. Hindi puedeng kukunin ng kamag-anak mo kung meron kayong pinundar. That in itself it changes the relationship kasi you're more confident in building a life with this person kasi alam mo may protection of the law na hindi yun mawawala nang basta-basta. (35:30)
When all your life you've been indoctrinated that there will not be an option for you to get married, you learn to accept that. But you also learn to detest the institution of marriage. It's hard to respect it and I didn't want to respect all the people who were keeping this from me. When I finally I had the right to marry, I realized that I can believe in marriage, and it's something that is meaningful to me, and that I had what it takes to see it through, to be able to get through the deepest and most painful parts of me just to be able to make it work with someone. We can't overstate the importance of legalizing same-sex marriage. I'm not saying that you can't have a legitimate relationship or build a life with someone without legal protections, but for me it really helped deepen our commitment to each other. (37:06)
Anong masasabi mo sa mga taong nagsasabing hindi naman kailangan ng same-sex couples magpakasal? Balik ko sa kanila yung tanong. Papano kung ikaw yung bawalan ko? Papano kong sabihin ko sa iyo na hindi mo kailangan? How would that make you feel? Kung sabihin ko sa iyo na hindi mo kailangan i-protect yung property niyo? Or ilagay siya sa insurance mo? Kung sabihin kong hindi niyo kailangan yan at magmahalan na lang kayo? Di ba masasaktan sila? Give us the option and ako magdedecide na ayoko, just like you have the option to decide na ayaw mo. It's not for you to say to me na wag na lang, kasi wala naman kaming option.(39:05)
People who say that same-sex couples don't need to get married do not have any concept of what marriage is.
A man and a woman who meet today can get married tomorrow and they can petition someone for immigration, they can pass on property, they can decide life or death decisions for each other even if they just met, but same-sex couples who have been together for 10, 20, 30 years, who have children and grandchildren together, if they don't have the right to marry, they don't have rights to keep their family together and keep their properties together. How can that be fair? As taxpaying citizens nagbabayad tayo ng buwis sa gobyerno tapos in the end kukunin lang yung properties natin or pagbabayarin tayo ng tax kasi hindi tayo considered as family members? It's absurd. It really doesn't make sense. (44:55)
What do couples need to consider before getting married? You have to think of what exactly marriage is. Marriage is a contract. Before you sign a contract, you need to read it and be clear on the terms of the contract. Any business does that, they have lawyers that study each aspect of the contract. It's the same with marriage. What's your plan? Mag-aanak ba kayo? Saan kayo titira? Anong religion ninyo? Money matters, sex, family, you need to define all those things. Sobrang ni-romanticize ng society ang marriage into wedding proposals and romance, but marriage is such a serious lifetime commitment. Andaming kailangang pag-usapan and to decide what kind of life you'll be living with each other. (52:20)
Marriage is such a huge responsibility. If you're not going to make it your top priority in your life, don't even bother. That's the only chance you have and even if it's your top priority, even if this person is the most important person for you, it will still be the most difficult thing and challenge that you will go through if you do it right. But the rewards of a good marriage are priceless. It's great for your health, it's great for your mood, your personality, your personal development, for your family, it's priceless. (54:00)
Our relationships are only as good as the people in it. If you don't know or you're not willing to communicate, you'll bring that into the relationship and then you'll have an uncommunicative or non-communicative relationship. Kung ayaw mong i-resolve yung personal issues mo, yung mga trauma mo sa buhay, you will bring that into the relationship. However it was you were brought up, kung ano yung mga hangups mo, dadalin mo talaga yan. Hindi mo yan maiiwasan. (58:29)
That's the beauty of being in a marriage. Kasi napaka-intimate ng union ninyong dalawa. Hindi mo talaga maiiwasan na may nag-o-observe sa iyo, to hold you accountable. Na parang ike-question mo kasi you can't just be on your own judgment kasi may may nagtatanong sa iyo na someone who loves and cares about you. Tatanungin ka ng bakit ganon, bakit ganun yung sinabi mo? Wala ka talagang kawala. And so you have to learn and you have to be willing to break yourself down and i-process mo talaga yung mga issues mo, or else you won't stand a chance. Talagang hindi kayo magkakaroon nga proper communication, hindi niyo mare-resolve yung mga conflicts if you're not willing to go deep down into your own self, resolve your weaknesses, your insecurities, all your traumas to become a good partner and to keep your marriage healthy. Kailangan you have to make yourself a good person and process all of these things in order to bring into your marriage or your relationship a better partner to make it work. (59:05)